SOFA CLEAN®, specialist cleaning, maintenance and renovation of the leather and upholstery since 1979!
#VIDEO
For more than 35 years, our company is active in the world of furniture to ensure after-sales services of sofas in leather or fabric.
Always fascinated by our business, we have developed an expertise that we put at the service of our many private and business customers throughout these years.
Thanks to our long experience, we have developed a range of cleaning products, maintenance and renovation for leather and fabric of high quality with minimum environmental impact.
Our selection of cleaning products, maintenance and renovation for leather and fabric can be used for collections of furniture, cars, carpets, clothing, shoes and leather goods.
SOFA CLEAN® QUALITY CARE, professional products of high quality.
We grant since always a major importance to the quality of our products to ensure a result and an outfit at the perfect time. The constant search of improvement and formulation of our existing products and efficient news production remain our priorities.
All our products for leather and fabric are tested in our laboratory and used by professionals. Optimization of the ease of use and application also allowseasy use for individuals.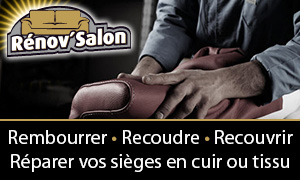 The close collaboration with our workshop of filling and repair of furniture www.renovsalon.be, allows us to be permanently on the ground and ensure the effectiveness of our products. Do not hesitate to contact our repair service Renov'Salon for any request for assistance in case of problems with your siding.
They are used daily by many technicians who are perfectly satisfied. Thanks to this symbiosis, we are also always informed treatment to develop in the face of new problems that can appear on the latest types of flooring on the market.
SOFA CLEAN® offers a full range of products to clean, maintain and protect, recolor and renovate your leather covering. We also carry the creams maintenance and custom coloring products in the color of your leather. We offer products to maintain, remove and protect your fabric cover. You will find in addition specific and necessary accessories for the use and application of products through a performance and maximum efficiency.
Our stock products are shipped within 48 h, and currently supply products are sent within 5 days. We deliver all over Europe and international export.
You will also find our site of many tips and methods to resolve your problems. And if you need help, we stand at your disposal to help you in any case!
Use our contact form to submit any questions related to your coating and our specialists will help you the most. We do the best for our customers.